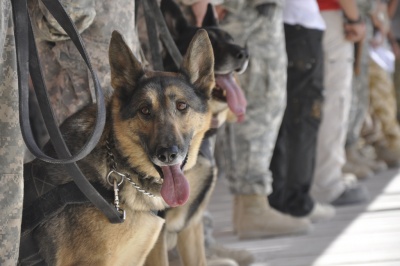 Pets for Patriots blogger, Beth Zimmerman, explains what to do with the family pet when a service person receives PCS order (Permanent Change of Station).
Married service persons' families are included in the order. The family must notify the proper military offices about pets and make any necessary travel arrangements. If the service member's family quarters are not ready, they must find a pet-friendly hotel nearby for the interim time. In foreign countries and many states within the U.S., health certificates and proof of vaccinations from a licensed veterinarian are necessary. There may be restrictions on certain breeds of dogs and number of pets allowed, and it is the responsibility of the service family to check regulations. Overseas relocation may have different requirements and these must be checked as well. At present, the British Isles requires that pets be quarantined for a time, but be aware that other countries may have quarantines too.
Single service members may be provided with one room in a barracks. Service members in barracks are not allowed pets. Depending on rank, a house or apartment may be provided. In this case, the same documentation, etc. is required for the pet.
For those whose are not able to take their pets with them, consider asking a friend or family member if they would be willing to accept long-term responsibility for your pet. There are also military pet foster organizations, but they don't offer long-term care. Check with:
Guardian Angels for Soldiers' Pet
Operation Noble Foster (cats only)
Foster Military Pets
Dogs on Deployment (dogs only)
Finally, a service member may have to leave a pet behind for whatever reason, as heartbreaking as this decision is. If your pet is purebred, you can check with breed specific organizations. Other choices may be asking your vet for information or contacting a No-Kill organization. Your local shelter, rescue or humane society may offer assistance. They are becoming more aware of PCS situations and may offer special programs to help you.