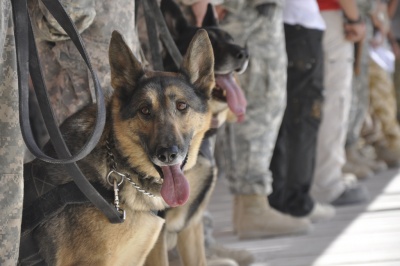 Dogs have been our companions for thousands of years. But more than that, they have served and protected us loyally under any and all circumstances. In appreciation, memorials have been built to their devotion and heroism. Here are some of their stories.
Sculptor Doug Roper was commissioned to create a War Dog Memorial in Long Island, New York. The memorial was dedicated in October of 2005 at the H. Lee Dennison Building and honors K-9 heroes serving the military from the Revolutionary War till today.
Roper chose a German Shepherd Dog, commonly used in wartime, to represent all heroes. The bronze statue is 48 inches from paw to shoulder and 9 feet long, twice the size of a German Shepherd.
The model for the sculpture, chosen after 9/11, was a dog named Tsunami, a black German Shepherd owned by Vietnam veteran, Hal Wilson. Tsunami helped in recovery efforts at Ground Zero, locating souls.
The inscription on the statute reads, " THIS WAR DOG MEMORIAL IS DEDICATED TO ALL THE DOGS WHO SERVED THIS GREAT NATION FAITHFULLY AND WELL. TRAINED AS MILITARY WORKING DOGS, POLICE DOGS AND VOLUNTEER SEARCH AND RESCUE DOGS, THEY HAVE SAVED COUNTLESS LIVES OFTEN AT THE COST OF THEIR OWN. THEY PROVIDED A THOUGHT OF HOME DURING TIMES OF TURMOIL AND THEIR MEMORIES WILL REMAIN
Forever in Our Hearts."
---
A 12 year old German Shepherd named Chyla became the model for a granite sculpture dedicated on April 16, 2011 at the Rancho Coastal Humane Society shelter in Encinitas, California.
Chyla served as a U.S. military patrol and security police dog in Kuwait and Germany, saving soldiers lives.
Jim Silveira, president of the RCH society, decided on the sculpture after meeting Chyla in San Diego, where his new family adopted him.
Each year, about 400 service dogs are available for adoption after their military careers. See our article about Pets For Patriots.
Inspired by stories of heroic war dogs, artist Susan Bahary created several sculptures honoring them.
During World War Two on the Pacific island of Guam, a Doberman Pinscher named Kurt was part of a wardog platoon trained to detect enemy soldiers and protect U.S. marines from ambush. Twenty-five of these dogs were killed during the battle for Guam.
Kurt was one of the mortally wounded dogs and died in spite of the gargantuan efforts of veterinarian William Putney. Exhausted after hours of trying to save Kurt, Dr. Putney fell asleep draped over him.
Awakened by his commander, Dr. Putney asked what he should do with Kurt. His commander replied that Kurt was a marine too and should be buried with other marines. Thus began the war dog cemetery on Guam.
Dr. Putney visited the cemetery 40 years later to find it in a shambles. He set out to make sure the cemetery was repaired and the idea of a war dog memorial was born.
Bahary's sculpture, dedicated in 1994, is a life-size bronze Doberman Pinscher on a granite base, Dobies being the official breed of the Marine Corps in World War Two. The raised leg shows that these dogs are always ready, always on alert and loyal. Bahary chose "Always Faithful", the English translation of the Marine motto, "Semper Fidelis."
---
In Ohio stands another of Susan Bahary's creations, this one honoring a tiny hero, Smoky, a Yorkshire Terrier.
Smoky was found in a New Guinea jungle and accompanied soldiers on 12 combat missions. She was awarded 8 battle stars, surviving 150 air raids as she helped engineers build an airbase in the Philippines.
Trained by Bill Wynne, the soldier who adopted her, Smoky pulled a telegraph wire 70 feet through a drain pipe under an air strip saving days of labor and safeguarding 40 warplanes.
The sculpture depicts Smoky sitting in a GI helmet to illustrate her size – 7 inches tall and weighing 4 lbs.
Under Wynne's training, Smoky became the first therapy dog, took part in obedience trials and learned over 200 tricks.
Heroic Smoky's sculpture was dedicated on Veteran's Day in 2005. The inscription reads, "Smoky, Yorkie Doodle Dandy, and, Dogs of All Wars."
Related articles: