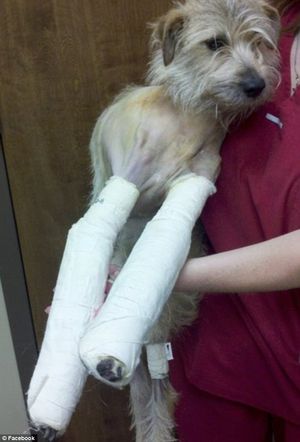 We've all been following the news of the terrible weather hitting the country – tornadoes, floods, violent storms. Our hearts go out to all those who have experienced terrible losses. We hope this story of a miracle dog lifts your spirits and gives you faith in the future.
It happened in Alabama. On April 27th, a terrier mix named Mason was blown away from the garage where he took shelter from the twisters. His family lost their home to the storm but were determined to search for Mason. Their efforts were fruitless. Two and a half weeks later, returning to the ruins of their home, they found a miracle – Mason was waiting for them at the house. He had crawled home in spite of suffering 2 broken legs.
The Birmingham Jefferson County Animal Control Shelter is taking care of Mason until his family can sort out their lives.
Mason underwent surgery May 20th and metal plates were put in place until his legs heal. Recovery will take about 6 weeks and Mason is expected to regain full normal use of his legs.
Special thanks to the many organizations and people who have sent rescue teams to search for pets who have been victims of the violent storms. Our prayers go out to all the people who have suffered.
Related articles: