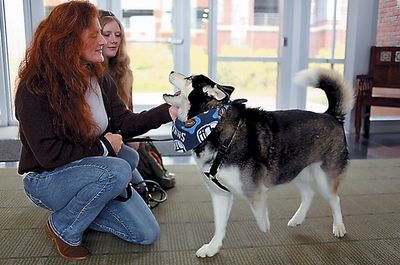 Here are some of the important events that took place in 2011. And you made it all happen with your support of animal rights. We've won many battles, but the war continues. Let's all help make 2012 even better.
A Miracle in the Devastating Storms – In April, a twister in Alabama destroyed a family's home. Despite their best efforts, the family couldn't find their dog Mason. When they returned to the ruins 2 1/2 weeks later they found a miraculous surprise. Mason, with two broken legs, had managed to return. He was waiting for them, battered, but alive.
A Victory – Delaware's CAPA Act – The Delaware Companion Animal Protection Act goes into effect.
A Victory in Florida – Florida Senate Bill 722 saves dogs captured in dogfighting busts from automatic euthanasia. The dogs are given a chance to find loving homes.
ASPCA – Victory for Puppies – In July, the ASPCA launched a campaign to bring public awareness to the connection between puppy mills and pet stores.
FDA Approves Life-Saving Drug for Horses – The FDA approved the drug Equidone Gel for prevention of life-threatening fescue toxicosis for Horses
Front Paw Implant at NCSU – North Carolina's State School of Veterinary Medicine performed a prosthetic front paw implant on a dog. This was the first time for a front paw implant.
Hero Dog Helps Find Osama bin Laden – A Navy Seals dog helped find Osama bin Laden, No. 1 enemy of the free world.
Oppose Captive Hunting – The shocking practice of Captive Hunting was aired on Fox and CBS to make the public aware of this cruelty.
Cockfighting – A Blood Sport – Texas strengthens their law on cockfighting making it a felony to attend such fights, possess cockfighting weapons or allowing one's property to be used for cockfighting. Cockfighting is illegal in all 50 states.
Change in Animal Testing – Botox – The HSUS reported that after a 7 year battle with Botox manufacturer Allergan, they have developed a new procedure that does not require animal testing. The fight to stop animal testing continues.
Truth in Fur Labeling Act – The HSUS filed a complaint after discovering that 11 major retailers were falsely advertising and labeling fur-trimmed products as being faux.
Israel Develops First Alzheimer's Dog – Israelis train the first dog to aid Alzheimer's patients.
Ohio Prohibits Wild Animals as Pets – Ohio banned private citizens from having wild animals as pets.
Texas Court Ruling on Pets' Value – In a landmark decision, the Texas Second Court of Appeals ruled in a case presented to them that pet owners can sue for "special value" such as sentimental value for the loss of a pet in certain circumstances.
HSUS – Help for Hens – An agreement between the HSUS and the United Egg Producers promises to improve conditions for laying hens and offer consumers more information on how they are raised.
Catalonia, Spain Bans Bullfighting – In the province of Catalonia in Spain the legislation outlawing bullfighting has taken effect.
Smithfield Foods has recommitted to phasing out pig gestation crates by 2017.
HSUS on Sharks and Bulls – California Gov. Jerry Brown signed legislation banning the sale and possession of shark fins in the Golden State. This follows the 2010 ban in Hawaii. Oregon and Washington state have joined in the ban. The fins were harvested for soup leaving the sharks to die cruelly.
2011 marked a large number of pet food recalls mainly due to salmonella contamination and higher than acceptable aflatoxin levels.
The Russian Federation of Khazakstan and Belarus have banned the import of seal products from Canada.