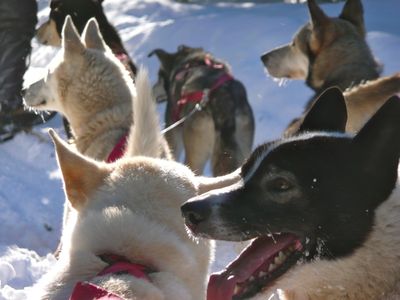 Most dogs have been bred to assist man at work, hunting, guarding, herding, transporting humans and their goods, as service dogs, companions – the list goes on.
The nature of dogs is to please their humans and they respond to the tasks given to them eagerly. Sled dog breeds include Alaskan Malamutes, American and Siberian Huskies.
As a working dog, sled dogs love the outdoors, can tolerate reasonably cold weather and do their jobs well. They are devoted to their humans and as with all dogs, they deserve care and kindness.
There are many responsible owners and breeders of sled dogs. They give their dogs proper food, shelter, veterinary care and don't train them to the point of exhaustion or injury. Their dogs are treated kindly and are well-socialized.
Most important, the dogs are not tethered and are given the freedom to run and play in a secure area.
Sadly there exist owners who are only interested in the profits the dogs make for them. Once they have outlived their economic value, a new horror awaits these dogs.
It was discovered in January that 100 sled dogs were murdered in April 2010, in British Columbia, Canada. The Whistler Co., owners of the dogs, couldn't afford to keep them when their bookings dried up at the 2010 Olympic games. This has led to an investigation by the BC SPCA and the RCMP. In response, the government has created a task force to investigate the entire sled dog industry. To begin with, tougher new animal cruelty laws including $75,000 fines and 2 year jail terms. Here are some recommendations of the task force:
Create a new regulatory authority that defines new mandatory standards of animal care.
Recommend the federal government strengthen criminal laws governing animal cruelty.
Require veterinarians to report animal abuse to the BC SPCA.
Establish standards of care for feeding, housing and euthanization of sled dogs.
Enhance the capacity of the BC SPCA to conduct animal cruelty investigations with a $100,000 donation.
Appoint a Crown Counselor with expertise in animal cruelty to pursue more cases.
Require sled dog companies on Crown land to submit to annual inspections.
Encourage the establishment of a sled dog industry association to develop certification and auditing programs.
Improve public awareness and ways to report suspected cases of animal cruelty.
The Vancouver Humane Society remains concerned about the poor treatment suspected by owners to their dogs and considered widespread in the sled dog industry.
The VHS informs us that when these dogs are not pulling sleds, they are kept tethered to posts causing them to behave abnormally, becoming aggressive, restless, nervous, frustrated, sometimes turning to rock-eating.
These dogs are forced to eat, sleep and eliminate in the same confined space. Collars sometimes become embedded in their necks and dogs have been known to strangle to death when chains become entangled with other objects.
Races such as the Yukon Quest and the Iditarod force dogs to run extremely long distances for hours over terrain "with jagged mountain ranges, frozen rivers, dense forests and desolate tundra in biting winds, blinding snowstorms and temperature fluctuations from 40 degrees above to 60 degrees below zero." All this with little rest or sleep.
The 100 sled dogs destroyed is still under investigation. We can only hope that with committed organizations and animal lovers around the world, the sled dog industry will be forced to adopt humane treatments toward these courageous dogs.
Perhaps the only ethical use of sled dogs is to help people get through snow if they are the only means of transportation.
We have since learned the following.
The Vancouver Sun reports that the employee who killed the 100 dogs had twice asked the BC SPCA for help in rehoming the dogs. Both pleas were rebuffed, the BC SPCA saying that they didn't know the dogs would be brutally slaughtered. The man was told the dogs wouldn't make good pets and were not adoptable.
This news means the BC SPCA is just as responsible as the tourism company for the slaughter of the dogs.
The SPCA is in the process of exhuming the dead sled dogs to determine if cruelty was involved. It is asking the public for $150,000 in donations to continue the project.