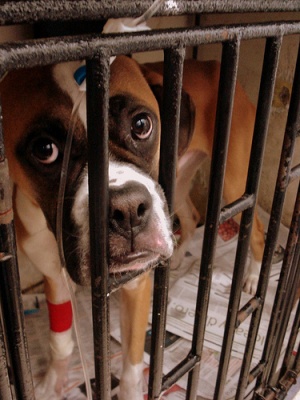 1. Auburn University's Dr. Bruce Smith, director of the Research Initiative in Cancer unit, has been awarded a 2 year grant by the American Kennel Club Canine Health Foundation for cancer research.
A hepatitis virus vaccine has been modified to make copies of itself inside bone cancer cells, releasing thousands of copies of the virus to kill the tumor.
Dr. Smith says, "This therapy attacks those metastases and will hopefully eliminate them or make them more sensitive to chemotherapy."
Founded in 2012, AURIC sees human and animal health as a single field where discoveries benefit both species.
2. Experimental treatment trials for brain cancer in dogs is being conducted at the University of Minnesota.
Dr. Liz Phuhar and researchers at the University have developed customized vaccines that destroy cancer cells remaining after tumors have been surgically removed. Results are very promising.
Dr. Phuhar sees the potential for using the therapy "in almost every type of systemic cancer in dogs." The trial is now being conducted at the University on human patients.
For more information, go to the site of the University of Minnesota Investigation Center, managing clinical trials, Dr. G. Elizabeth Phuhar.