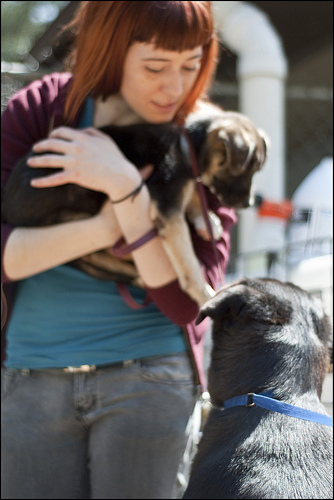 Pet lovers – help make a difference by volunteering your time for animals! Along with doing a good deed, you can benefit from meeting like-minded individuals, learning new skills and forming relationships with some wonderful animals. Some options are:
Animal shelters – Help by walking dogs, sending out educational literature or fundraising. Give some of the animals one-on-one attention to help them with socialization skills. See more: Animal Shelters
Foster parent – House orphaned animals until they are old enough to be adopted. This takes about 8-12 weeks. Alternatively, foster the pet of a deployed soldier who has no one to care for his pet while he is overseas.
Matchmaker – Help clients find the pet which is right for their personalities and lifestyle.
Offer your professional services – If you're a photographer, offer to photograph pets waiting for adoption. If you work in PR, help with publicity for an animal shelter. If you're a graphic designer, donate your time to create a brochure for an animal rights organization. Shelters are often in need of legal advice. Be creative in thinking of ways your abilities and talents can be put to good use in the service of pet-related organizations.
Volunteer your pet – Animal-assisted therapies have become popular in recent years. Take your pet to visit patients at home or at the hospital. See more: Pets for Cancer Patients
Help animals abroad – World Vets organizes veterinary aid missions all over the world. Along with vets, there are a few lay assistants on each mission. Each mission treats about 200 sick animals.
Donate old items – Blankets, sheets, computer equipment, etc. you are getting rid of may be useful to your local animal shelter. Some second-hand or thrift shops donate their proceeds to benefit animals. Donate your old stuff to them.
Give rides to the vet – Elderly or ill pet owners may not be able to transport themselves to vet and grooming appointments. Help out by signing up with an organization to give rides in your car.
Get involved in a trap/neuter/return (TNR) program – These programs help solve the problem of large numbers of stray animals with no one care for them. Set out the traps, bring the animals to the vet and return them to their natural environment after the procedure. If there is no TNR program in your area, lobby your local government to start one. See more: Trap, Neuter, Release, Bring the Spay/Neuter Campaign to Your Community