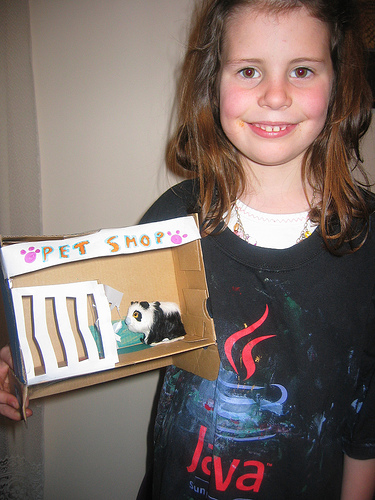 If you love pets there are many interesting business opportunities in the field. You can open a store, provide a service or use your creative talents to benefit pets.
Selling Pet Products
If you excel at sales you may want to consider selling pet products. You could open a store or you could sell directly through private parties, similar to the way Tupperware is sold. Another option is to open an online business, selling products via a website and shipping to your customers.
Products include pet food, clothing, grooming tools and other pet supplies.
There is a growing demand for dog and cat treats, especially natural ones. If you are a good baker, you can profit from a dog or cat bakery. Marketing skills and creativity will help you become a success. If the treats are cut into cute shapes they will be more popular. You can sell locally or via website. Before you get started, check whether regulations in your area require a commercial kitchen.
If you have design and sewing or knitting skills, you can get involved in the pet clothing business. Pet clothes can be sold online or locally and include sweaters, coats, hats, boots, scarves and Halloween costumes.
Services
There are a wide variety of pet services.
If you like to be hands-on with animals, you could become a groomer. Training is required and can be obtained at some pet stores. One option is to run a mobile grooming business, where you come to people's homes with all the necessary equipment and groom the animal there. This is especially beneficial to home-bound pet owners.
Another mobile business opportunity is a pet food delivery service. Busy pet owners or those with multiple pets will appreciate the convenience of having their pet's food delivered straight to their doors. You can also offer treats, litter, bowls and other related items.
Pet sitting or pet day care are both profitable businesses. Pet sitters take care of animals in the owner's home. You can do all the pet sitting yourself or hire sitters and manage the business. Pet day care takes place outside the home. You can start a day care business in your home if you have enough space and a yard for the animals to play in. It is important to have liability insurance in case one of the pets is injured or runs away.
Dog walking can be lucrative too. Start-up costs are very low; you don't need much beyond business cards and some good quality leashes. Most professional dog-walking takes place in the morning and early afternoon when owners are at work. For extra income you can combine dog sitting with dog walking.
Another business option is breeding. This requires a lot of time: researching the breed, the actual breeding and raising the puppies or kittens until they are ready to be sold. You can start small by breeding just one litter and test out whether this business is for you. Before you get started, check out the regulations and zoning laws in your area.
A new trend in the pet world is animal massage therapy. People who enjoy massages themselves and believe in holistic medicine may be interested in massages for their pets as well. Training is required and in some areas a license is necessary. Since massages can improve an animal's health this can be a very satisfying career.
Pet photography is a good choice if you have a calming influence on animals. You can set up your own studio or photograph pets in their own home or in public parks. In addition to selling portraits you can offer t-shirts, mugs, mouse pads etc. In the digital age, it doesn't cost anything to take as many pictures as necessary until you get a good one, but you will need patience.
A service which requires extensive training but can be very satisfying is pet psychology. Pet owners who are struggling with their pet's behavioral problems often turn to a pet psychologist. This field is becoming more popular amongst pet owners and their are few trained professionals, so competition is light.
Obedience training also requires training. You can train in your home or the pet's home. Alternatively, you can hold obedience classes in schools or community centers.