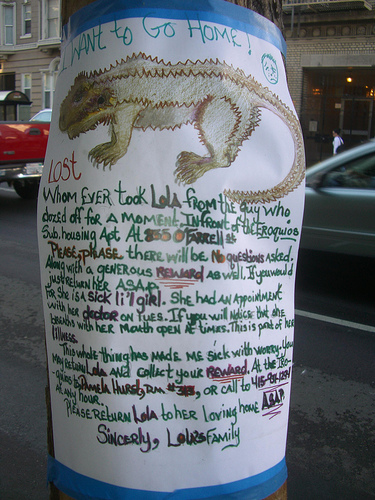 Losing a pet can be traumatic for the entire family. The Humane Society of the United States provides advice on what to do if you lose your pet.
Contact local animal shelters and animal control agencies. Check your phone book or search online for local shelters and report your pet missing. You should file a report with every animal agency within a 60-mile radius. Include an accurate description and a recent photograph of your pet. If there are no shelters in your area, contact the local police instead. If you believe your pet was stolen, contact the police in any case.
Search the neighborhood. Walk or drive through the neighborhood daily. Ask neighbors and service people in the area to keep an eye out for you. Give out flyers with your contact information and a photograph of the pet.
Advertise. You can hang notices at grocery stores, community centers, veterinary offices, traffic intersections, pet supply stores etc. You can also place ads in newspapers and on the radio. Describe your pet pretty accurately but leave out one detail so that you can ask the person who finds your pet to describe it.
Be wary of pet-recovery scams. This is where that missing characteristic comes in handy. Be wary of people who insist on money or a reward in exchange for returning your pet.
Don't give up your search. Just because your pet hasn't returned in a few days, it doesn't mean he won't turn up eventually. Some pets have returned to their owners after months.
Preventative measures for next time. Your pet should always wear a collar and an ID tag with your name, address, and telephone number. This will increase the chances of a lost pet being returned. You can also talk to your vet about permanent forms of identification such as microchips.
As soon as you discover your pet is missing check hiding places in and around the house – closets in every room, behind appliances, attics, garages, under porches and shrubs, sheds, trees (for cats). Other places pets can hide are under reclining chairs, mattresses, bookcases, drawers, chimneys.
Often cars and trucks have open windows that are inviting to curious pets. Check if there have been any service trucks nearby.
Leave food and water outside. When searching for your pet, go out at night, take along treats, call your pet's name and listen for any response.
If you've moved, check your old neighborhood and ask people there to be on the lookout.
Accept any offers of help.
Related Articles