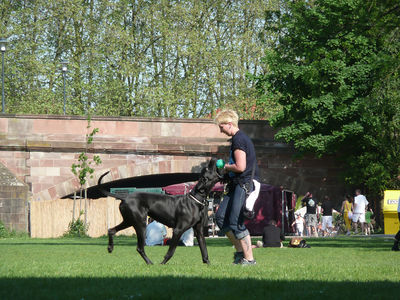 Winifred Gibson Strickland began competing in dog obedience trials in the early 1940s. Winifred was the first trainer to incorporate humane methods although she still used physical punishment in training. After winning numerous obedience competitions, she retired in 1955. Her book, Expert Obedience Training for Dogs, is still used by many in spite of some controversy over her methods.
Frank Inn was born Elias Franklin Freeman, May 8 1916 in Camby, Indiana. He left home at the age of 17 to seek his fortune in Hollywood. While working as a maintenance man at MGM, he was run over by a car and pronounced dead. His body was sent to a mortician's school for embalming when a student realized he was still alive.
While still wheelchair-bound, Frank received a gift of a puppy he named Jeep. Recovering from the accident, Frank returned to work at MGM giving their animal trainer Henry East, tips on getting a dog to perform. Frank then landed a job at MGM as an animal trainer along with his dog Jeep.
Frank has trained such notable animal stars as Orangey the Cat (Breakfast at Tiffany's), Asta the Dog (Thin Man series), Bernadette the dog (Cleopatra on The People's Choice), Arnold the pig (Green Acres), Chimpanzees (Beverly Hillbillies), Higgins the dog (Petticoat Junction and Benji). He assisted training Pal the dog in the Lassie Come Home movie.
Orangey, Bernadette, Arnold and Higgins were among Frank's 40 award winners of the Patsy, given by Hollywood's branch of the American Humane Association. It is the Oscar of the animal kingdom.
Frank was the first to be inducted to the International Association of Canine Professionals Hall of Fame. He died on July 27, 2002 at age 86. The ashes of Higgins and Arnold were placed beside him in the coffin.
Turid Rugaas has been actively training dogs for over 30 years. A former racehorse trainer, Turid understands and advocates for gentle training methods as they do work. She never employs punishment and her positive training ensures a loving, respectful bond between dogs and their humans.
Turid, a Norwegian native, has toured the world delivering her message. She has writren books and presented videos and DVDs on the subject of training dogs with kindness. Turid is a founding member and president of the Pet Dog Trainers of Europe, an organization devoted to teaching through kindness and respect.
Hagen Hundeskole is a dog training school in Norway owned and run by Turid.
Turid's book, On Talking Terms with Dogs: Calming Signals has been acclaimed worldwide and should be included in every dog lover's library.
Turid has devoted her life to understanding and training of dogs. Her insights have made her one of the world's leading experts on dog behavior.
Tamar Geller's interest in dogs began when she served as an Intelligence Officer in the Israeli Army Special Forces, watching dogs being trained. After completing her army service, Tamar studied wolves, observing them being taught with game playing. Tamar applied these methods to dogs. She prefers to be called a life coach and believes dogs are able to intuit our needs and wants.
Tamar has appeared on numerous television shows including The Today Show, The Oprah Winfey Show, Animal Planet's Who Gets the Dog, Larry King's show, 20/20, Fox News, Good Morning Britain among them. She is also the coach for dogs of many celebrities including Oprah Winfrey, Ben Affleck, Ellen DeGeneres, Hilary Swank, Goldie Hawn, Natalie Portman, Mariska Hargitay to name a few.
Tamar is also an advisor at the Humane Society of the United States and Best Friends Animal Society.
She is founder of southern California's first cage-free doggie daycare and boarding facility, The Loved Dog, a concept now found in major cities in the U.S.
Tamar's best selling book, The Loved Dog, teaches us respect and kindness are the right ways to approach dog training.
Cesar Millan probably the most well-known dog trainer, was born in Culiacan, Mexico on June 12, 1969. He credits his grandfather with teaching him about animals while living and working on his farm. Cesar's observations of wild dogs there led him to decide on a career as a Hollywood animal trainer.
Cesar entered the U.S. illegally in 1990. He had $100 in his pocket and no knowledge of English. He found work as a dog groomer before launching his career as a trainer. His soothing manner with nervous dogs led their owners to ask him to train their pets.
In 1994, Will and Jada Smith asked Cesar to train their rottweilers. The Smiths were so impressed with the results that they recommended Cesar to friends and his career blossomed.
In 1998 Cesar opened the Dog Psycology Center in Los Angeles. Through recommendations of his handling of problem dogs (along with training their owners) his reputation grew.
Cesar was offered a show for the National Geographic channel and The Dog Whisperer made its debut in 1994. Cesar has also written several dog training books, has a monthly magazine called Cesar's Way and a line of dog items including food, beds, collars, etc. His love for dogs has led Cesar to save many from euthanization.
Cesar's methods of training dogs is maintaining calm and assertive energy, and being a dominant pack leader. He uses a few aversive training methods (alpha rolls, leash jerks, poking with fingers or foot) to get his point across to dogs. Cesar feels that Americans are too soft with their dogs and puts the show of affection at the bottom of his list when training a dog.
Many of his techniques work well, particularly with aggressive dogs. However, as he states on the show, don't attempt these techniques without a professional trainer.
Dr. Patricia B. McConnell is a world-renowned animal behaviorist and trainer. She is an Adjunct Associate Professor in Zoology at the University of Wisconsin-Madison where she attended and received her Ph.D. in Zoology in 1988. Patricia received the prestigious Allee Award from the Animal Behavior Society the same year.
Along with Nancy Raffetto, Patricia founded Dog's Best Friend Ltd. in 1988.
Patricia has written books and booklets on dog training and cat and dog behavior problems. Her books, "The Other End of the Leash," "For the Love of a Dog," and "Tales of Two Species" have been widely acclaimed.
Patricia writes for many publications including "Bark" magazine and has appeared on many TV shows. She continues to present seminars on dog behavior and training throughout the U.S. and has spoken on the subjects in Canada, Australia, New Zealand, Germany, Sweden and Belgium.
Patricia lives on a small farm in Southwestern Wisconsin with her dogs, cat and a flock of "spoiled" sheep.
Patricia's philosophy on dog training is to use positive, humane methods. She does not believe in dominating an animal, but understanding and correcting behaviors when necessary. I have read her books and strongly recommend them to all dog lovers.