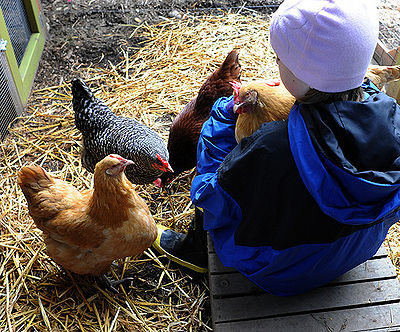 The term, free range, refers to animals that are allowed to roam freely without being restrained. Chickens are sometimes referred to as cage-free. Eggs from free range chickens are included.
Free range does not necessarily mean organic. The Organic Food Production Act of 1990 requires that an animal be fed pesticide-free and chemical-free organic food from birth. Animals and poultry must have access to the outdoors and never have antibiotics or drugs used on them.
Free range simply means that animals and poultry are allowed the freedom of outdoors. There are no restrictions as to the size of the range or condition.
This does not mean that free range is not organic. There is no reason why animals and poultry can't be both.
Please refer to our article Animal Rights and Your Food to better understand how inhumanely much of what winds up on our dinner plates may be treated.
Would you be willing to pay more for meat, chicken, eggs to ensure that animals are treated humanely? This can be a difficult question to answer given today's economy.
We all want animals to be well-treated. Next time you shop, consider buying a soda or snack or 2 less and investing that extra cash in encouraging the humane treatment of animals.
The only way to be sure you are purchasing free range and/or organic meat and eggs is to check labels and research the producers of these products.
The following companies have switched 100% of their eggs to cage-free:
Hellmann's Light – Hellmanns is converting all its products to cage-free.
Kraft started using cage-free eggs
Sara Lee is also starting to use cage-free eggs
Amtrak, Virgin America and Ruby Tuesday switched to 100% cage-free eggs.
Quiznos doubled its cage-free egg volume.
Sonic, Golden Corral and Cracker Barrel each started using cage-free eggs.
Safeway will double its percentage of cage-free eggs by 2012.