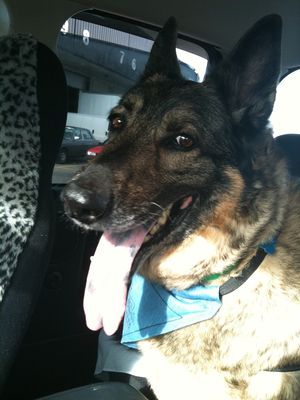 Rhonda, a friend on bonecancerdogs adopted Lance, a German Shepherd, after he became a tripawd.
Lance was abandoned in California at a kill shelter on December 9, 2010. The family claimed he was too old (11 years old) and gave the shelter permission to euthanize him if a home was not found within 4 days. A kind person posted Lance's photo on Facebook where the Coastal GSD Rescue saw him. The Coastal GSD Rescue saved Lance from a certain death on December 15th. They discovered that Lance was no more than 5-6 years old. Noticing Lance limping, arrangements were made for him to be x-rayed on December 16th and he was diagnosed with osteosarcoma. Amputation of the affected rear leg took place on December 23rd.
Lance was fostered from January 3rd, 2011 by another BCD friend, Nicole, until a forever home was found. Hearing of Lance's plight and having recently lost a furpal to OS, Rhonda offered to adopt him. Thanks to the generosity of BCD members donations, arrangements were made to fly Lance from California to Pennsylvania and his new loving home with Rhonda and her mastiff pal, Moosey. Lance is surviving the odds over 8 months and still going strong!
Sadly, after surviving a year after amputation, Lance, our Hero, was called to the Rainbow Bridge on January 14, 2012. Much loved by all, he is missed.