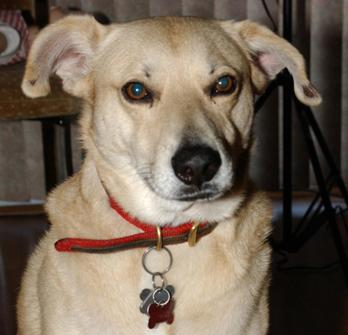 (submitted by Ann Henning, a friend)
Milo joined his forever family when he was found at an Oakland, CA adoption event in January 2006. Milo was 4 1/2 years old at the time, a Labrador mix with double dew claws on both hind legs. He had a facial scar that attested to past suffering he endured.
In his new home with Beth and Tom, Milo thrived under the care and love given him.
On September 9, 2009, Milo began limping after a walk. Diagnosis proved the cause to be osteosarcoma.
Although finances were a problem Beth and Tom continued to pursue options for treatment. They chose Femoral Head Ostectomy, (FHO), a surgery in which the ball (femoral head) of the hip is removed and replaced by a false one.
Beth and Tom searched online and discovered groups that offered support and valuable information on treatment options. They changed Milo's diet to Hills n/d, a grain-free food for dogs with cancer and added supplements, K-9 Immunity, Transfer Factor and K9 Omega Capsules.
Despite no amputation or chemotherapy, and the vet's prediction of living only 3 months past diagnosis, "Miracle Milo" proved his name and survived.
On July 25, 2010, the OS leg began to swell. Sadly there were no options left and Milo went the Rainbow Bridge on July 27th.