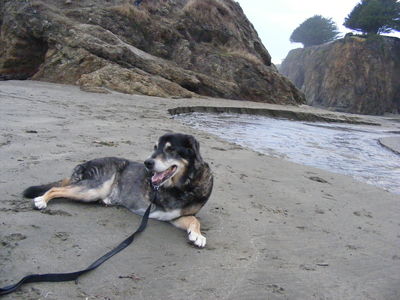 Saboo – was diagnosed with bone cancer in August 2006. Her front right leg was amputated September 2006. We did not use any chemotherapy but added a lot of supplements to her healthy food.
My hero Saboo after almost 5 years (just a month short) since her bone cancer diagnosis at 16.5 years passed over the Rainbow Bridge July 5, 2011. I went to the vet with her for a blood test and she collapsed in front of the office with the muscle that separates breathing and eating closed. She couldn't get any air. The doctor said LARYNGEAL PARALYSIS.
Saboo was adopted in 1996 when she was about 1 year old. She was supposed to be euthanized the next day. Saboo is a typical 70 lbs Lab mix, used to chew stuff until she was about 10 years young. Always loved the water and used to swim in any lake she could get into.
She recovered after her amputation amazingly fast. But that was not all. At the end of 2006, Saboo almost had a twisted her stomach on the way to San Antonio, Texas. Luckily, the vet in Carlsbad, New Mexico just had to release the air in her stomach.
In Dec of 2007 though, Saboo had a twisted stomach, and had to go through emergency surgery which she again recovered from surprisingly well. God must really have an eye on her.
The transfer to Oregon in October of 2008 went great and we met a lot of people for the bone cancer yahoo group reunion that year here in Oregon. Saboo loves Oregon and we had been still hiking about 1 mile at least twice a week.
In 2010, she had been slowing down partially because she was getting a little older and also because she had been fighting some kidney and urinary track infections. Her walks were still a must though shortened to about 0.5 miles a day.
In October 2010, we went on another big trip with her. We drove all the way from Portland, OR to San Diego, CA for the bone cancer yahoo group reunion. On the way, we stopped in a lot of places and a lot of time Saboo had to pose for pictures with tourists – she will be a world famous dog at this rate.
Christmas/ New Year seems to be our "danger time". Her recovery from anemia caused by some medicine against the kidney infection over Christmas/New Year 2010 went well. Sometimes it's hard to figure out if a medication doesn't cause more damage then healing.