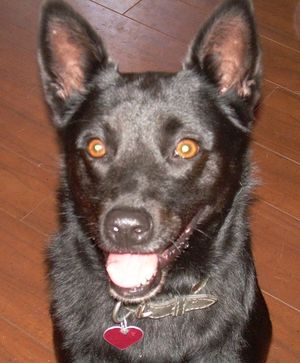 Nicole adopted Daggit as a 9 week old from a puppy rescue in Colorado. Daggit is an Australian Shepherd/Labrador mix.
Daggit's cancer story began in August of 2009. A swelling in a toe that didn't respond to Nicole's treatment prompted a vet visit. Daggit was treated for what appeared to be an infection but with a further vet visit and x-rays, the vet recommended amputation of the toe. Biopsy of the removed toe revealed osteosarcoma. Fortunately chest x-rays showed no spread of this highly metastatic cancer.
Daggit was placed on the Metronomic Protocol, a low-dose chemotherapy and drug combination for a time. Daggit's diet consists of 75% raw and 25% Taste of the Wild. Supplements include fish oil, K9 Immunity, turmeric, Pet Kelp and Nu Pro joint support.
Nicole and Daggit are celebrating 2 years survival on August 18, 2011. We celebrate with you – Happy 2 year Anniversary Daggit and many more!
Note: Sadly, Daggit passed away in September of 2011 after battling complications of cancer. You are missed Brave Girl!