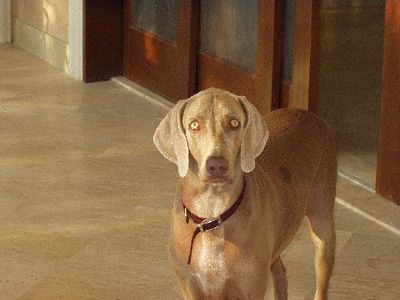 I just wanted to share my story with you as I think it might give a great deal of hope to others that are facing this disease with their baby puppies. My doggie was diagnosed with HSA (hemangiosarcoma) almost 6 years ago. Given only 2 weeks to live, he is ready to celebrate his 10th birthday (me too) on October 27th. What could be greater!
I live in Costa Rica, so at the time no chemo, radiation, an oncologist or holistic assistance was available. I just turned on my computer…and started searching. So many of the sites made me cry that I adopted a new motto which I follow to this day…"Stop Crying…Keep Trying!"!!!
After his diagnosis I changed his [Diets for Pets with Cancer|diet]] to all home cooked meals, high animal protein and no carbs or starches. Then as I was able to I added a boatload of supplements.
And we lived happily ever after for 3 years. But just as I started to think he had been misdiagnosed or it was actually a miracle…another tumor. I had Artemisinin and the gel, but was reluctant to stop all the supplements that had kept him alive for all those many years (possibly?). But I took the plunge at that point, cut off his immune enhancing supplements and began to follow a protocol recommended by Dr. Monroe Brown on the Artemisinin Yahoo site.
At the time, my baby puppy had 2 tumors, one subcutaneous about 2 1/4 inches in diameter and one cutaneous about the size of a grape tomato. I followed the protocol exactly, pulsing the Arte and using the gel. And within a month both tumors disappeared! Another miracle!
So my doggie is now almost 10 years old (YEAH!!!) and he just got another tumor which I was not able to get rid of with the Arte. So I took him in and had it removed surgically. They have all been cutaneous or subcutaneous so far and I have had an ultrasound of all his organs (liver, spleen, kidneys, bladder) every other month and an x-ray of his heart and lungs when he needs to be anesthetized for other reasons…so far so good. I totally believe that Arte, diet and supplements saved my doggie's life! And that will perhaps give others a reason to stop crying…and KEEP TRYING!!