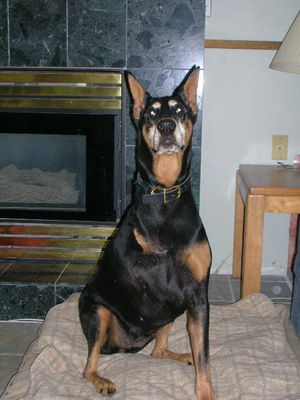 Priscilla is a Doberman Pinscher born 1/20/2002.
In 2009, Priscilla's owner turned her in for euthanizing because their other dog beat her up and they didn't want to treat the injuries and then take her home to be beaten up again…..
She had some deep cuts and bruises, but was sewn up and put into rescue where she soon found her way to me!
We had some struggles with the wound, and had to have it redone. She also struggled terribly with lick granulomas. Her first year was pretty rough.
As if she hadn't had enough problems, she was diagnosed with Osteosarcoma in February 2010. As the pain increased rapidly, we decided to go with amputation and an artemisinin treatment regimen. In April of 2010, she lost her right leg, but gained a whole new life!
It was really the first time since we had her that we started to see the real pain-free Priscilla emerge. Her nub started to wag like crazy and by December she knew what stuffy toys were for and carried them everywhere!
As I write this today, July 16, 2011, Priscilla has just passed her 15 month anniversary. We hope to have her for a long time yet, but we remember to appreciate every day she is with us.
Priscilla – 9 year old Doberman Pinscher
Diagnosed 02/10 – osteosarcoma right distal portion of the radius
Amputation – 4/10
Last lung x-rays June/11 – 3 mets, largest golf ball size
Artemix, Curcumin, Vitamins C & E, Omega 3