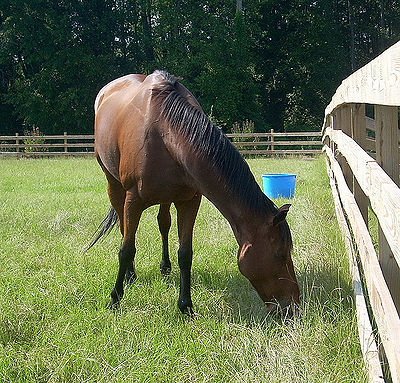 Retired racehorses often begin "second careers" in other sports, as studs/broodmares or as therapeutic pets. At the Welfare and Safety of the Racehorse Summit at Keeneland June 28, 2010, speakers stressed the need for racehorses to be treated well in order for them to have the ability to start a second career. If pushed too hard, the horses will be broken down and unable to do anything except live out the rest of its days eating, drinking and sleeping. If the horse's condition warrants it, it will be euthanized.
In March, 2010, the ASPCA announced the Million Dollar Rescuing Racers Initiative to help rescue retired racehorses from neglect, abuse and slaughter. A healthy well-cared for horse can live 18-25 years, but a racing career generally lasts one to two years. According to Jacque Schultz, Senior Director of ASPCA Community Outreach, "The thoroughbred that has given his all on the racetrack deserves to live out his life free of pain, fear and suffering."
Second career options
Sports – Many retired racehorses have gone on to be very successful in Eventing, Dressage, Show Jumping, Showing, Endurance and Polo. These horses are used to working hard and have a hard time adjusting to "just being a horse." In order for a racehorse to take part in another sport, he requires retraining by professionals.
Studs/Broodmares – Thoroughbred horses who do well on the racetrack are in high demand for breeding purposes. Their sons and daughters can make excellent racehorses. There are firms which provide retired racehorses with food, exercise, veterinary care and mental stimulation.
Therapy – An organization called Standing in the Gap retrains racehorses as therapeutic horses for veterans. They can be helpful for working through both physical and emotional problems. Horses can be used for therapy for autism, at-risk teens, children with ADD, bipolar disorders and more.
Adopting a retired racehorse
Locate an organization in your area which specializes in adoption of racehorses. Choose a horse which is appropriate for your riding ability. The organization should help you find a match that fits. Get acquainted with your horse before adoption and ride it a few times. Be aware that a racehorse may need some recovery time before it can begin a second career and that some horses will never be able to do more than hang out in your pasture. Find out if the organization has done some basic retraining of the horse or if the bulk of the work is up to you. Adoption organizations charge an adoption fee to help fund their work.