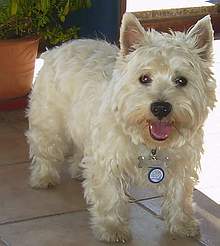 In Scotland, it was once believed that being followed by a black dog was an omen of death. The Clydesdale Horse was named for Clydesdale, Scotland, now known as Lanarkshire.
Legend has it that when Mary, Queen of Scots was executed in 1587, she walked to the scaffold with a tiny dog hidden in her voluminous skirts. After her beheading, the dog refused to be parted with her and was covered in blood.
The little black Scottish Terrier is considered to be an icon of Scotland. When King James VI of Scotland became James I of England (in 1603), he sent six terriers to a French monarch as a gift. His love for the breed made it popular in Scotland.
The famous veterinarian, James Herriot, was born in Scotland in 1916. He wrote a series of stories about his experiences as a vet, which were published together as All Creatures Great and Small.
Keith Harding, a Scottish politician born in 1938, oversaw the introduction of a Dog Fouling Bill which gave on-the-spot fines to animal owners who didn't clean up after their pets.
Edinburgh Castle's Dog Cemetery is a major tourist attraction in the city.
| | |
| --- | --- |
| List of Dog breeds bred in Scotland: | List of Cat breeds bred in Scotland: |