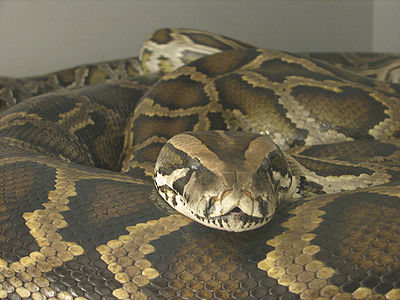 The HSUS tells us that Interior Secretary Ken Salazar, in the Everglades, announced a ban on the import and trade in Burmese Pythons, Yellow Anacondas, and northern and southern African Pythons. These are large constricting snakes, not suitable as pets. They can kill and injure people, owners and others alike. They are an invasive species that have found their way into habitats and killed native wildlife including endangered animals.
Here is a timeline of events from the HSUS:
June 2006: The South Florida Water Management District petitioned the U.S. Fish and Wildlife Service (FWS) requesting the listing of Burmese pythons as injurious under the Lacey Act, a federal law that regulates trade in wildlife.
January 2008: FWS published a Notice of Inquiry in the Federal Register asking the public for comments on several large constrictor snakes.
July 2009: U.S. Senator Bill Nelson of Florida testified before the Senate Environment and Public Works Committee about the dangers posed by large constricting snakes to Florida's ecosystems, unveiling the skin of a 17-foot Burmese python perhaps shed in the Everglades.
October 2009: The U.S. Geological Survey issued a science-based report that identifies nine species of large, constricting snakes as posing a medium or high risk as invasive species in the United States.
March 2010: FWS issued a proposed rule to list nine large constrictor snakes as injurious under the Lacey Act.
January 2011: Open Secrets, a website that discloses federal lobbying expenditures, announced that the U.S. Association of Reptile Keepers spent $120,000 lobbying against the FWS rule. USARK submitted a report saying that banning the trade in these species would cost the industry $100 million–an utterly absurd figure.
March 2011: The White House Office of Management and Budget/Office of Information and Regulatory Affairs received the final rule from FWS. (This White House agency's review process is usually 90 days, yet the rule was held up for 10 months.)
January 2012: Salazar makes the announcement covering only the four species.
The problem lies in the fact that the current administration has excluded 5 species from the import regulations, two of which, boa constricters and reticulated pythons, make up two-thirds of the trade. Ten of Florida's largest newspapers demanded that the Obama administration stop dragging its feet and do something about the trade in these invasive, dangerous species.
The HSUS tells us that "in the end, no one is happy – not animal advocates or environmentalists or even reptile dealers. The administration is jettisoning science for politics….."
The electorate and leaders of the State of Florida who face this critical problem want something done about these invasive species of snakes.