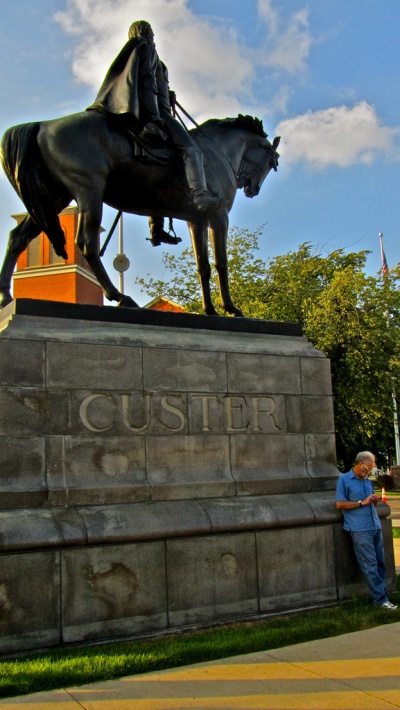 Contrary to popular belief, Comanche was not General George A. Custer's horse. He was the most famous horse in America and was idolized in the latter half of the 1800s.
Comanche, a Mustang/Morgan mix, was an army horse, bought in 1868 and sent to Fort Leavenworth, Kansas. There a Captain Myles Keough of the 7th Cavalry fancied him and bought the horse to be ridden in battle.
Wounded by the Comanche braves during a battle, the horse continued allowing Keough to ride him and fight. To honor his bravery, Keough named the horse Comanche. Although wounded in several battles, Comanche never gave in.
On June 25, 1876, Captain Keough rode Comanche at the famous Battle of the Little Big Horn led by Lt. Col. George Armstrong Custer.
Comanche was found two days later, badly wounded while Custer and all his men lay dead. The Souix were not interested in a wounded horse, but took the remaining surviving horses, leaving the wounded Comanche.
Comanche as the only survivor of the battle was nursed back to health by the soldiers and then retired under orders never to be ridden again. He became a sort of pet of the soldiers and shared an occasional beer with them.
Comanche became the symbol of bravery and spent some time touring in parades and patriotic gatherings.
Comanche died in 1890 and was buried with full military honors. He was preserved and is on display at the University of Kansas.
The late Country star, Johnny Horton, recorded a popular song honoring Comanche, "Comanche, the Brave Horse."
Related Articles