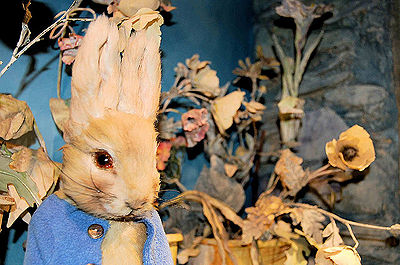 Beatrix Potter, most famous for her book The Tale of Peter Rabbit, was an author and illustrator of children's books depicting animals, as well as a sheep breeder and conservationist.
Potter was born in London in 1866 and was educated at home by governesses. She had many pets including frogs, newts, ferrets, a pet bat and two rabbits – one named Benjamin and one named Peter.
When Potter was 27, in a letter dated September 4, 1893, she sent a picture and story letter about rabbits to Noel Moore, the five-year-old son of her last governess, Annie (Carter) Moore. Moore encouraged her to publish her story, so she expanded it and turned it into The Tale of Peter Rabbit. Potter wrote and illustrated 23 books for children, populated by animals who have human personalities but also are deeply based in natural actions.
With the royalties from her books, Beatrix Potter bought Hill Top Farm in village of Sawrey. She married local solicitor William Heelis and began to breed and show Herdwick sheep. She served as president of the Herdwick Sheep Breeders' Association.
Potter's concern with preservation of farmland led her to donate her land to the National Trust after her death. The legacy consisted of 4,000 acres (16 km²) of land, cottages, and 15 farms. The land is now part of the Lake District National Park.