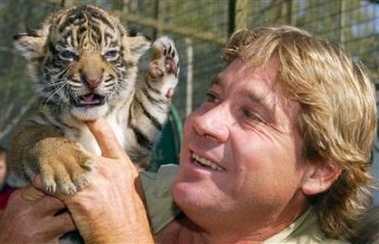 Steve Irwin was an Australian television personality, wildlife expert, and conservationist. He was born in 1962 to parents who ran the Queensland Reptile and Fauna Park. Irwin grew up around reptiles and was extremely comfortable handling them. He worked as a volunteer for Queensland's East Coast Crocodile Management program, capturing crocodiles for relocation, some to the family park. In 1991, he took over the management of the park and renamed it Australia Zoo.
In 1992, Irwin married Terri, an American naturalist. They spent their honeymoon trapping crocodiles, and the footage became the first episode of a TV show called The Crocodile Hunter, which debuted in 1996. After that show ended, Irwin went on to star in other animal-related TV shows.
Irwin founded the Steve Irwin Conservation Foundation (later renamed Wildlife Warriors), and the International Crocodile Rescue. He was particularly concerned with conservation of endangered species. He expanded Australia Zoo and promoted tourism in Australia and in Queensland in particular.
In 2006, while filming a documentary called Ocean's Deadliest in the Great Barrier Reef, Irwin took advantage of a break in filming to go snorkeling. He was fatally pierced in the chest by a stingray's spine. The documentary was finished with additional footage shot after his death. Steve Irwin was buried in a private ceremony at the Australia Zoo. Later, a public memorial was held, where he was eulogized by the Prime Minister of Australia and numerous celebrities.
The organization he founded, Wildlife Warriors, continues to operate, now as an independent charity. According to its website, its goals are:
To protect and enhance the natural environment
To provide information and education to the public and raise awareness of wildlife issues
To undertake biological research
To research, recommend and act in the protection of threatened or endangered species.
To enter into cooperative arrangements with like-minded organisations
These were the ideals that Steve Irwin believed in and his legacy lives on in the conservation efforts of this charity.
Video