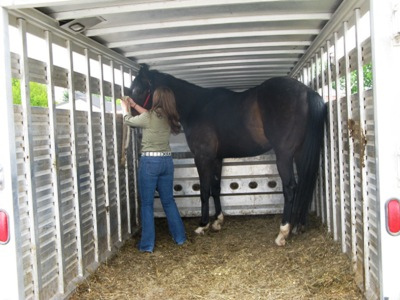 Purchasing a horse trailer is a major financial commitment. Research the different types well and assess your horse's needs as well as your own.
The 3 most common types of horse trailers are Stock, Straight-laod and Slant-load.
The Stock Trailer is an open air trailer and usually has slatted sides. Some horses enjoy the feeling of not being closed in. A disadvantage of these trailers is that without a cover, they are exposed to all types of foul weather. An advantage is that it can be used to haul other things besides horses.
Straight-load trailers are the ones most commonly used. They allow the horse's weight to be distributed evenly. Disadvantages could be loading and unloading your horse. However, with patience a horse can be trained to go in and out with little problem.
With Slant-load trailers, horses ride at an angle which allows them more ease, especially when you have to stop short or start up quickly. The slant-load may be uncomfortable for larger horses and tiring for all horses if they have to brace themselves often for stops and starts.
Horse trailers can be constructed of different materials, each having their pros and cons.
Trailers made of steel are heavy and require regular maintenance to prevent rust. They can last a long time if you are willing to keep up the maintenance work.
Trailers with the frames made of steel and the body made of aluminum eliminate the need for major maintenance. There should be a barrier between the steel and aluminum to avoid electric shock.
Trailers made of aluminum, while the most expensive, are the best choice. Aluminum exteriors may oxidize which doesn't affect the performance, but the trailer is lighter in weight than steel and resists corrosion.
Check the trailer's suspension to make sure there won't be excessive bouncing for both horses and trailer. The frame of the trailer should be strong enough to support your haul with supports placed the proper distance apart.
Look for a trailer with wood flooring as it is easier on the horse than aluminum.
There should be adequate ventilation with vents and windows placed properly so that your horse has enough air and light as well as room to be comfortable.
Another thing to look for is rubber covering walls and any protruding objects that could injure your horse.
You might want to look into purchasing a used trailer. Just check it over very carefully to make sure it meets all your criteria.