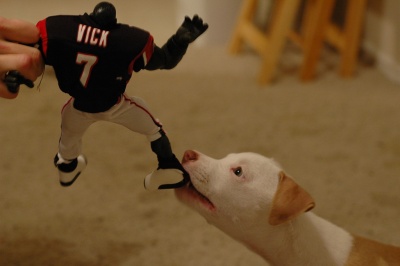 Some animal welfare issues which should be legislated sooner rather than later:
Michael Vick and dogs? – not a good mix. The judge in Vick's cruelty case ruled he should not have a dog for the 3 year probation period. Because Vick has been making public appearances since his release from jail, speaking out against dog fighting and animal cruelty, the prohibition against dog ownership is not a lifetime ban. Should he be allowed to own a dog again? Is he really rehabilitated? See more: Illegal Animal Fighting
Trap, Neuter, Release – Write or call your congressman and push for this program in your neighborhood. It's a humane way of cutting down on the feral cat population.
Work towards making all shelters No-Kill. Stop those shelters that use gassing to kill our pets. We understand that some animals must be euthanized if they are incurably ill. But these animals deserve to be humanely euthanized. Be an advocate for animals. See more: Maddie's Fund 10 Reasons to consider No-Kill and Starting a No-Kill Program
In most cases, using animals for scientific experimentation is unnecessary. Stop this inhumane treatment – contact your congressman to help with increased supervision of this practice and write laws to prevent abuse. Buy only products that have not been tested on animals. See more: Animal Testing
In some states, Arkansas for one, pets found wandering can be picked up by anyone and claimed by that person as their own. If you leave your car parked somewhere and it's taken, that's a crime. Pets are living, breathing beings that mean so much to those of us sharing our lives with them. Claiming a pet as your own before trying to find the owner should be a crime too. And veterinarians should be more proactive, scanning pets for microchips and contacting proper authorities if a problem is suspected.
If horse racing is to persist, there oughta be a law enforcing the prevention of using drugs to enhance racing performances or to hide physical ailments. Horses that are lame or sore should not be raced until they are fully healed. Veterinarians at horse racing facilities should take an active role in protecting these beautiful animals and see to it that reforms are enacted and obeyed. After all, they took an oath to serve and protect animals.