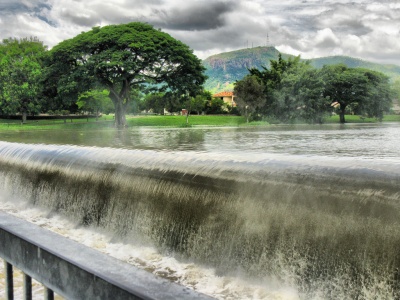 A major flood in January 2011 in Queensland, Australia, has been a disaster for animals as well as for people and property.
Many pets were left behind because their owners had no way or time to take them with them. Some pets were washed away by the water. Livestock bore the worst of the disaster, because fencing meant that farm animals couldn't escape to reach high ground. The waters also filled with snakes, which posed a danger to other animals.
Volunteers set up an animal rescue center in the Central Queensland University's basketball courts. They rescued animals from the water and brought them to the makeshift enclosure. Helicopter and boat crews brought food to people and animals stranded on high ground.
The RSPCA is calling on the government to take pets into account in future flood evacuation plans. After Hurricane Katrina, the United States revised its plans to include evacuation of pets. The U.S. government understood that the importance of pets is even greater in times of stress, and for some people their pet is their entire family. American laws state that evacuation plans must include either evacuation centers for pets or centers for people where pets are welcome.
Photographs of the effect the flood had on animals can be viewed at ABC News.
Video