I had a Pet Photo Day at a local Pet Supplies "Plus" store recently and there was a dog and cat rescue group celebrating the opening of their new facility within the store. The store owner had generously donated a large portion of his property to construct an area to house kittens and cats that have been rescued from the street and from other shelters. The name of the rescue group is Forgotten Friends of Long Island. Their web site is here Forgotten Friends and they have a Facebook page here: Forgotten Friends on Facebook
They had also brought with them, several rescued dogs that live in foster homes while waiting to be adopted. They don't have room to house the dogs, so some volunteers with very big hearts become foster "parents" to these animals that would have otherwise been euthanized.
I asked the Coordinator of their Foster/Rescue Dog Program, if I could donate some of my time and take pictures of the foster dogs which could then be used on their web site. I hadn't seen their web site or the pictures of the dogs on it, but I have seen other rescue sites and I know what the pictures usually look like. It is a known fact that the better the picture, the better the chances are that a dog will get adopted. Even without having seen the pictures they were using on their web site,I was sure that I could improve upon them, even with the limited set up I had to work with at the time.
Here are the "before" and "after" pictures:
The top row photos were taken by the rescue group's volunteers.
The rest are photos of the same dogs, taken by me: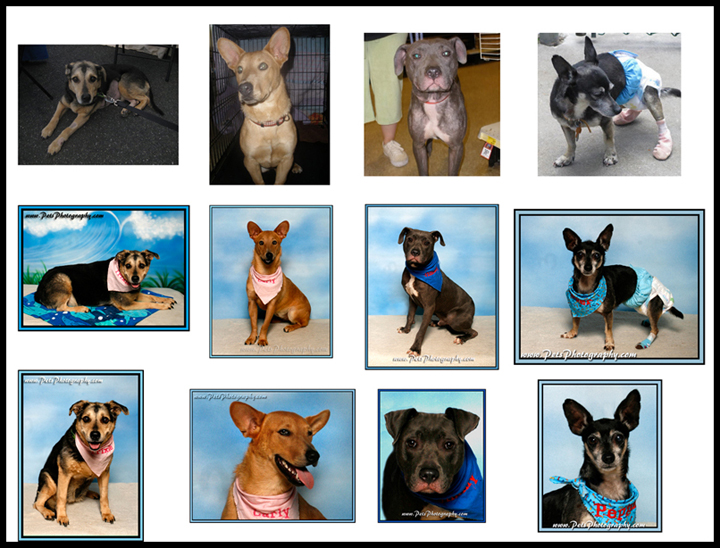 Take a look at the pictures, maybe you would like to adopt one or perhaps you know someone who might like to. Please get in touch with Forgotten Friends of Long Island.
If you are a shelter or rescue organization in Connecticut, New York City or on Long Island, I am available to do the same thing for your organization.
Richie's web site is http://www.petsphotography.com
Follow on Twitter
Follow on Facebook
Follow on YouTube
---
About The Author: Pet Photographer Richie Schwartz – With 30 years photography experience, this former Veterinary Technician, Dog Groomer and Dog Trainer is known as the "dog whisperer" of pet photographers. His animal care and photography experiences have given him an unmatched ability to create beautiful pet portraits. He has photographed over 60,000 pets and is one of the country's most prolific and sought after Pet Photographers. He speaks at photography clubs and pet expos and offers pet photography seminars and workshops. He regularly volunteers to donate his time and services to raise funds and awareness for animal rescue organizations. Based on Long Island,NY, Richie and his staff at Pets Photography Studio provide photography services for a major pet supply chain store at 30 locations in the northeast United States.