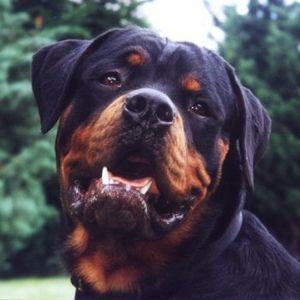 Nitro's Law, H.B. 108, has been reintroduced to Ohio's House of Representatives. Nitro's Law amends an existing law protecting animal companions. It allows prosecutors, at their discretion, to charge kennel owners with a felony, bringing stronger penalties, instead of the present misdemeanor.
Kennel owners will be charged for failing to provide basic necessities and/or inflicting "torture, torment, needlessly mutilate or maim, cruelly beat, poison, needlessly kill or commit an act of cruelty against the companion animal."
The bill has come this far due to the efforts of Liz and Tom who were Nitro's guardians. In 2008, Liz and Tom brought Nitro, their rottweiler, to High Caliber K-9, a training and boarding facility in Youngstown, Ohio, owned by Steve Croley. They toured the facility and found nothing amiss.
Suspicion of abusive treatment led to a raid on the facility. Authorities found 7 dead dogs with many others starving and dehydrated.
Sadly, Nitro was among those who died, probably due to starvation or dehydration.
On January 22, 2009, Croley was charged with misdemeanors on only 4 dogs and sentenced to 4 months in jail and ordered to pay $1,796 in restitution and $1,000 fine. He is on probation for 3 years and cannot own or keep any animals. After the 3 year period, he is free to resume keeping animals.
Contact members of Ohio's House of Representatives Criminial Justice Committee. Write or call and urge members to vote "yes" on Nitro's Law, H.B. 108. Help to charge kennel operators with a felony for torturing or abusing animals.
Nikki Monstaki, animal advocate, dog trainer, author of pet books and articles and TV personality has vowed to eat one meal a day of dog food every day until Nitro's Law is passed. Ms. Monstaki works tirelessly feeding shelter pets, in rescue efforts and as an advocate for homeless animals. For her efforts she has been dubbed "Saint Nik." She asks that people across the nation join her in eating dog food, working towards the passage of Nitro's Law.
Alison Wiener and Hanna Mandelbaum both at Evermore Pet Food in Brooklyn, New York, have joined Nikki, eating dog food one meal a day, every day, for a month.
Celebrities who have tasted dog food include Kathie Lee Gifford, Melissa Gilbert, Conan O'Brien, Glenn Close, Dick Van Patten and Zac Efron.
Video