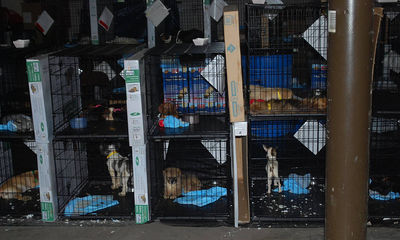 The HSUS, ASPCA and Best Friends Animal Sanctuary believe a compromise reached by 2 Missouri animal welfare groups and puppy mill associations does not adequately protect breeding dogs and their puppies.
The new language is vague and unclear, weakening the proposals in Prop B.
Prop B – breeding females rest at least every 3rd cycle.
New provision – breeding allowed every cycle.
Prop B – no wire flooring
New provision – allows encased wire flooring
Prop B – requires veterinary care for illness or injury
New provision – veterinary care only if breeder decides it's serious
Prop B – no stacking of cages
New provision – stacking cages with barrier between them
Prop B – outdoor exercise area 2 times the size of dog's indoor enclosure
New provision – outdoor run but no mandate on size
Prop B – limit of breeding dogs to no more than 50
New provision – dispenses with limits of number of breeding dogs
The HSUS states "The compromise falls far short of protecting breeding dogs from unnecessary suffering and it's not worth of support."
WE AGREE!
Related articles: