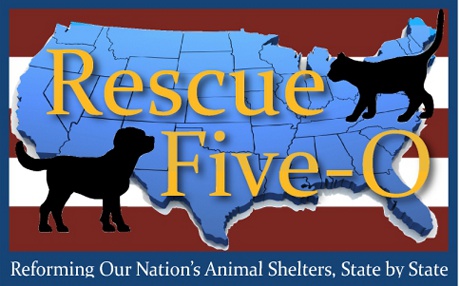 Rescue Five-O is a three organization joint project with the No Kill Advocacy Center, No Kill Nation and Animal Wise Radio.
They are sponsoring a campaign to rescue animals destined for death in shelters and pound of all 50 states. The idea is to reform the shelter system and work to make No Kill the standard all over the United States.
The three part program consists of:
1. Campaign for new leadership in local shelters – Appoint people who will institute the No Kill philosophy.
2. Political advocacy at the local level – You can make phone calls, e-mail, lobby and meet with political leaders in your district.
3. Legislative changes at the state and local levels – Encourage adoption of the Companion Animal Protection Act (CAPA) by your representatives. In order to make No Kill a success, animals in shelters need protection given by the passage of laws.
For further information on what you can do to help create No Kill in your area, go to Rescue Five-O online.