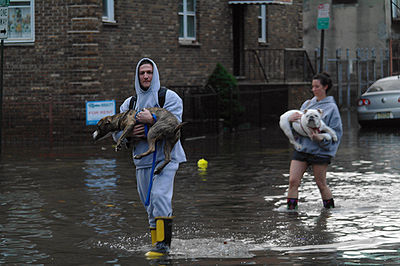 Hurricanes, tornadoes, floods and other natural disasters can wreak devastation on people and pets. Since there is not always sufficient warning of an impending disaster, it is best to be prepared at all times. Some tips on keeping animals safe during a disaster:
Animals should not be left behind. You don't know how long it will be before you are able to return home to feed and water them.
If you must leave them home, leave 10 days worth of dry food and water. Leave the animals in an enclosed space. If possible, have someone check on them periodically.
For farm animals – make sure you know how to obtain sufficient transportation for all of your livestock. Train your animals to board vehicles.
Have cat or dog carriers on hand to safely transport these pets. Use it occasionally so that your pet will not object to getting in.
Have an emergency boarding location for your animals. Make an arrangement with a friend or keep a list of local hotels which accept pets.
Form agreements with neighbors to help each other out in the event of a disaster. Designate someone to evacuate your pets if you are not at home at the time of the disaster.
Prepare an emergency kit with first-aid and other essential items. It should also include a list of emergency phone numbers such as your local animal shelter, vet and your local Red Cross chapter.
Keep ownership papers and/or photos with you so that if you are separated from your animals you can prove they are yours. The animals should also have collars with IDs.
Take your pets' medical records with you when you evacuate. Most boarding kennels, veterinarians, and animal shelters will require them before taking in your animal.
Related Articles
External links: