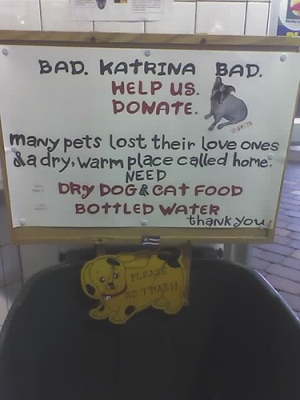 9/11 and Hurricane Katrina have made us all think about what to do for our pets when disasters strike. Preparedness in the face of fires, tornadoes, floods, hurricanes, etc. will help increase chances of survival for us and our pets.
Please make every effort to take your pets with you in the event of a disaster. Do your research beforehand so that when you must evacuate, you'll have a safe place to go to for you and your pets. In some areas, your pets are allowed to accompany you to shelters.
Begin by making lists which will include all you need to do in case of emergency.
List all pets and their location in the home. This includes birds and any small animal pets.
List any illnesses your pets may have and the name and telephone number of your vet. Write down names, addresses and telephone numbers of anyone that can be contacted if you and your pet are separated.
If any of your pets are on medication, be sure to have an ample supply, label them clearly and put them in a place that could be easily accessed.
Keep enough food on hand to last at least a week or two.
Check for an area in your home where you and your pet can be safe. Keep a battery-operated radio there, a flashlight and extra batteries. Check these every so often to make sure they are all working. Include bottled water and non-perishable food for you and your pets.
Keep handy a list of places you can go to (hotels, motels, relatives, friends) willing to accept your pets if you must evacuate your area. Crates for your pets will make it easier to load them in the car.
If you are not home when disaster hits, have the lists of pets and all information necessary in prominent places in your home and carry a list with you so that rescuers can find them more easily.
Give lists of all information concerning your pets to all friends and family members who will take them in emergencies if you are not at home.
If you must leave your pets, turn off gas and electricity, leave them with enough food and water to last a couple of weeks.
When rescue efforts begin, contact rescue organizations to let them know about your pets.
You can get rescue stickers free of charge from the ASPCA. Place them on your doors and/or windows front and back of your home with information on type and number of pets you have and location in your home.
Whether you are able to take your pets with you or they have to stay home, leave their favorite toys with them and perhaps an article of your clothing to give them some comfort.
Check the outside areas of your house. Storms, heavy snows, hurricane force winds, flooding, all can force even locked gates, doors and fences open. Take the precaution of keeping your pets indoors.
If you must walk your dog outside, either in your fenced area or beyond, use a harness and leash – collars sometimes slip off a frightened animal. Be extra cautious even if your have a fenced-in yard. Dogs particularly have been known to jump very high fences when fearful and cats can easily climb any barrier.
If your cat(s) are indoor/outdoor pets, keep them inside until danger passes. That means preparing litter boxes too.
Any small pets in outdoor cages should be brought indoors until the storm and any danger passes.
Check any horse or other animal barns to make sure they are secure and there is no danger of fire or other catastrophe occurring. Make sure they have enough food and water until you are able to go out and check them.
Evacuation muzzles are now available for cats and dogs. Ask about them at your local pet shop.
Related Articles