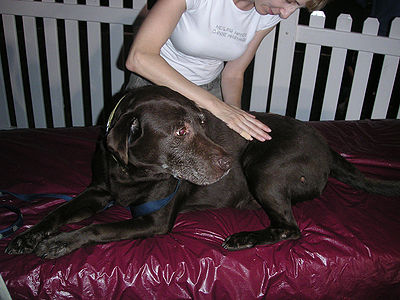 Our pets teach us unconditional love and unwavering loyalty. When they reach that stage of life, nearing the cross over to the Rainbow Bridge, we can help make their transition more peaceful.
Massage is one of the oldest forms of healing. There are records showing that massage on animals was preformed by the ancient Egyptians, Romans and Chinese. But it has only recently, in the last half century, been revived to treat animals.
Massage can prove especially useful for terminally ill pets. Physically, it can reduce pain, improve circulation and relax muscles. Psychologically it gives the pet feelings of comfort, is calming, can relieve anxiety. As little as a 5 minute massage or up to 20 minutes can bring a pet peace.
Veterinarian, Dr. Michael W. Fox has written a number of books on the art of massage for both dogs and cats – "The Healing Touch for Dogs" and "The Healing Touch for Cats." With easy to understand directions and clear drawings and photos, massaging your pet is made simple. Amazon.com offers books with directions for massage on horses as well as more massage books for dogs and cats and other animals.
Massage can also create a special bond between you and your pet and we all know how our pets enjoy our gentle touches.