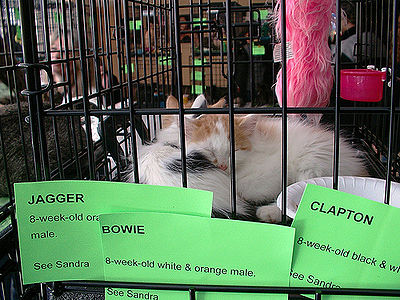 Shelter cats should be considered for adoption all year, but June has been designated as a special month for adoption.
There are several things you can do to celebrate Shelter Cat Adoption Month.
Visit your local shelter. Take a friend or two along.
Volunteer to help in any capacity they may need you.
Become a foster parent. This entails caring for one or more cats until they find their forever home.
Write a check to your local animal shelter or favorite animal organization in honor of Adopt a Shelter Cat Month.
Spread the word. Post on Facebook, Twitter, blog about it, call your local newspaper to advertise adoption.
Talk to your local shelter about adopting a Trap/Neuter/Release (TNR) program.
Ask your pet shop owner of s/he will consider on on-site adoption event.
Have a bake sale or other type of sale and donate the proceeds to a shelter you support.
The American Humane Society suggests these guidelines when adopting a cat:
Consider adopting 2 cats.
Make sure the cat you choose complements your personality.
Choose a veterinarian before adopting and schedule a visit within a few days of adoption.
Cat-proof your house before bringing the new family member(s).
Work out the costs of cat ownership and include in your budget, spay/neuter, vaccines, microchips, special needs. Many shelters spay/neuter and vaccinate cats before they are adopted.
Prepare all items you'll need for your cat(s) beforehand – food, bowls, litter box and litter, cat-safe toys, scratching post, brush and comb for grooming, cat nail clippers, a bed, a toothbrush.
Your cat(s) may be stressed in a new environment. They will become accustomed to their new home, but keep them calm by introducing them slowly to family and friends.
Add your new pet(s) and all relevant information to your family emergency plan.
If you want to give a cat as a gift, make sure the recipient is informed and will be part of the process.
Once you've prepared everything and your cat(s) is home, just sit back and enjoy your new best friend(s).