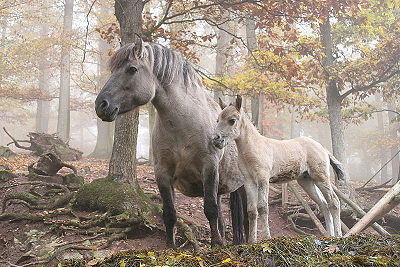 The HSUS informs us that the Environmental Protection Agency (EPA) has taken a step to protect free-roaming horses and burros and other animals.
The EPA has announced the official registration of the first contraceptive vaccine for horses in the United States.
The vaccine is known as ZonaStat-H or procine zone pellucida, PZP. The HSUS, sponsors of the registration, says this means that the vaccine can be used by all wild horse managers for all Western herds.
In recent years, rounding up the horses has proved to be detrimental to the horses and a severe drain on the budget of the federal management program. PZP has been used since 1988 in a pilot project in Maryland at the Assateague Island National Seashore. The contraceptive vaccine prevents mares from becoming pregnant and has proved to be safe for the horses and the environment.
The HSUS is working with other agencies including zoos to test PZP to safely manage wildlife numbers and to develop long-lasting and more easily administered versions of the vaccine.
When used properly, this can mean the humane preservation of wild horse and burro populations in the West.
Related articles: