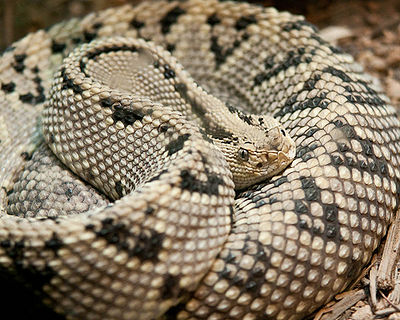 The Eastern Diamondback rattlesnake is a venomous snake found throughout the Southeastern United States – southeast North Carolina to Florida, the Florida Keys, southern Mississippi and eastern Louisiana and Georgia. They live in swamps, forests and prairies. As the largest rattlesnake species, the Eastern Diamondback is 3 1/2 – 5 1/2 feet long full grown. The Eastern Diamondback feeds mainly on rodents, rabbits, some birds. With humans encroaching on their habitat, they have added roadkill to their diet.
The Evans County Georgia Wildlife Club has now declared they will end their roundups of these creatures. Instead of killing the snakes and using the meat and skin, the Wildlife Club has decided instead to celebrate their existence along with other regional wildlife by holding the Claxton Rattlesnake and Wildlife Festival.
The Festival will be held the second week of March and will include educational displays and programs, entertainment and other family activities.
Praising the decision of the Evans County Wildlife Club are the Centers for Biological Diversity, the Coastal Plains Institute, Protect All Living Species and One More Generation, all sending letters voicing their approval and congratulations. We'd like to add our kudos to the club!