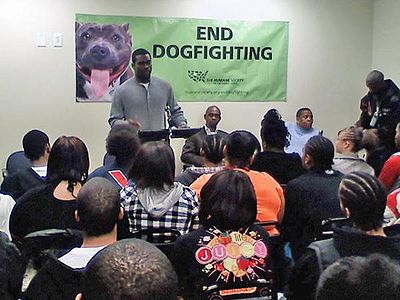 While a few states have penalty laws for spectators at animal fights, there is no federal law making it a penalty to attend them. Admission fees and wagering on the fights are the fuel that spurs the continuation of dog fighting and cockfighting.
There is a bill before Congress, the Animal Fighting Spectator Prohibition Act, S.1947/H.R. 2492, co-sponsored by Senator Saxby Chambers (202-224-3521), Senator Johnny Isakson (202-224-3643) and Representative John Lewis (202-225-3801). You can help make this into law by contacting these members of Congress and others, urging the passage of the bill.
Included in the bill are additional penalties for exposing children to animal fights.
Politely call and write to Congress people, showing your support for the bill. Spectators are just as guilty as those who sponsor animal fighting.