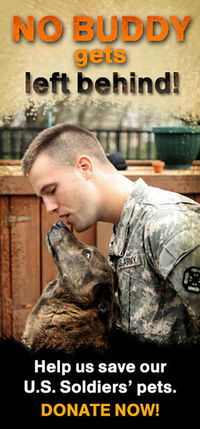 SPCA International has informed us that "Idle", a hero of the Iraq war, arrived home to the USA. Idle, along with another hero dog, Nugget, were welcomed at Dulles International Airport in Virginia.
Working tirelessly, the SPCA International along with many of you who signed their petition and made donations to help bring these dogs home, made it happen.
SPCA International expects that by mid-March, all 7 hero dogs will be home. They will be looking for families to adopt them and give them the loving homes they deserve.
You can visit the SPCAI for more information on Operation Baghdad Pups and their stories.