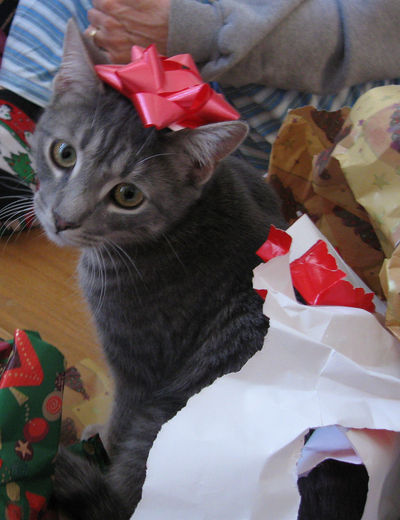 It's holiday time or your best friend's birthday. You know the joy of sharing your life with a pet and would like to give that joy to someone special.
But before you rush out to choose that pet, there are important considerations.
A pet is a living being and represents a commitment for years, some as little as 2 years, some for 10-20 years or more. It should not be a surprise gift.
If the pet is for a child, you must check with the parents to make sure they agree. When children are given pets, some of the responsibility if not all is on the shoulders of the parents. Besides financial considerations, does anyone suffer from allergies? Are pets allowed where they live? Are the people prepared to take on the responsibility of pet ownership? What kind of pet would they like? If parents agree, the gift of a pet can be a wonderful surprise for a child.
Discuss with the person you are planning to give a pet to, what type of pet is suitable. If you intend to give a child the gift of a pet, check with his/her parents first. They could be the ones taking on the care of the pet. A responsible adult should be the one making the choice.
All pets require time, some more than others. Is this person prepared to take on the financial responsibility of pet ownership? Besides vaccinations and regular checkups, pets can become ill and medical bills can pile up. Then there is the cost of food, toys and other equipment depending on the pet. Just because a pet is small or doesn't have a very long lifespan doesn't mean its necessities are inexpensive.
Once you have everyone's okay, consider adopting a pet from a shelter. Since you'll be paying all the fees, you'll be helping assume the initial cost of a pet. It's a good idea to include some food, grooming needs and whatever else your finances will allow. And of course, shelter pets cost a lot less. They are usually already spayed or neutered cutting costs even further. Often there are purebreds found at shelters as well.
You might want to consider giving a donation to an animal cause in the person's name. Or ask that person if he/she would like to join you and volunteer to help out in an animal shelter. While it may not be a personal gift for the person, it's certainly is a gift for the animals and the shelter.
The important point is that pets should be wanted. All too often pets given as gifts, whether it be for holidays, birthdays or any occasion, wind up abandoned or back at a shelter or worse. Before giving a pet as a gift, be sure it is going to a loving, forever home.
Related Articles