Welcome to the Fish page!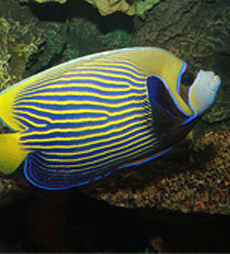 Having an aquarium at home and sitting and watching fish in their habitat is said to be relaxing and calming. Other benefits of keeping fish are they are quiet, require little care and are inexpensive after the initial costs of aquariums and other equipment.
There are so many different fish to choose from.
Starter fish that are fresh water and easy to maintain include goldfish, guppies, mollies and sword tails. They are a good introduction to keeping fish for children.
Fish up to 6 in:
This section of the list includes fish that will be up to 6 in. as adults. Tanks sizes given are for single or a pair of fish.
Fish over 6 in:
The following descriptions are of fish that are over 6 in. as adults. Tank sizes are for a single or a pair of the species described.