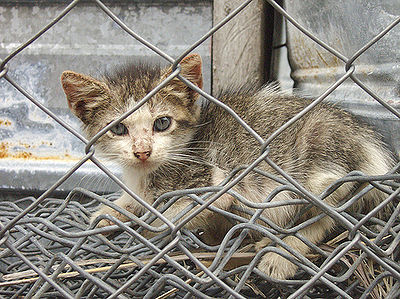 The Humane Society of the United States, the Humane Society International and the Humane Society Veterinary Medical Association have organized the last Tuesday of each February as Spay Day, a worldwide event.
There will be hundreds of spay/neuter events around the globe to highlight the importance of saving animals' lives by educating the public on how to prevent the birth of unwanted animals. People will also be made aware of the Trap, Neuter, Release(TNR) programs for feral cats.
The HSUS supports spay/neuter programs year round and provides these life-saving surgeries at no cost in under-served rural areas.
You can enter your pet's photo in the Spay Day Online Pet Photo Contest presented by Zazzle. Entries must be in by Friday, February 25th. Anyone voting for your pet contributes $1 per vote which helps to raise funds for spay/neuter programs.
Those pets with the most votes will win prizes such as a trip to the 2012 Genesis Awards or a painting by pet portrait artist Janie Coleman. Those without votes will be eligible to win prizes in the Judged Category.
In 2010 the Photo Contest entrants raised more than half a million dollars to support the spay/neuter program.