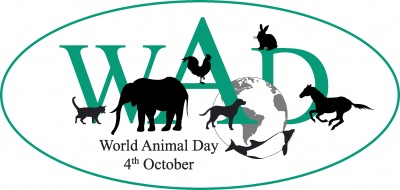 Hundreds of events will be taking place in 73 countries in honor of World Animal Day.
The Mission Statement of World Animal Day is:
To celebrate animal life in all its forms
To celebrate humankind's relationship with the animal kingdom.
To acknowledge the diverse roles that animals play in our lives – from being our companions, supporting and helping us, to bringing a sense of wonder into our lives.
To acknowledge and be thankful for the way in which animals enrich our lives.
The idea of World Animal Day was conceived in 1931 in Florence, Italy when a group of ecologists met and decided this was the way to highlight the predicament of endangered species.
The WAD website was opened in 2003. October 4th was chosen as the day to honor animals because it is the Feast Day of St. Francis of Assisi, the patron saint of animals.
You are encouraged to take part in this special day honoring animals. By participating, you show your love and respect for animals and their importance to our world.
Check locally for events that are taking place in your part of the world. There are charity balls, park festivals, raffles, pet adoption, free vaccinations, free spay and neuter, zoo tours, lectures, lunches, pet blessings – the list is endless. Find out what's happening near you.
You can go to World Animal Day on the web for information about past and current events. Your ideas are very welcome.
Video
External Sources
Official World Animal Day website