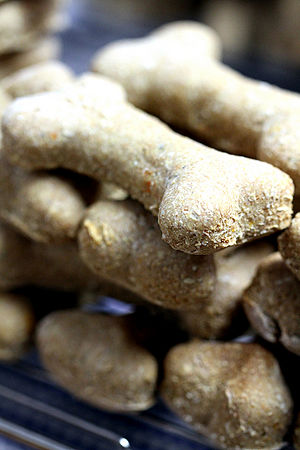 In celebration of National Dog Biscuit Day, February 23, 2012, we want to share a recipe with you for baking your own dog biscuits for your furpal.
Ingredients:
3 Cups of Whole Wheat Flour
1 Cup of Rolled Oats
1/2 Cup of Shredded Cheese
1/2 Cup of unsweetened Apple Sauce
1 Cup of any of the following: 1 can of salmon or tuna, drained; shredded beef, chicken, turkey or liver; ground meat or ground turkey or chicken
3 Eggs, beaten
Mix all ingredients together. You can roll out the mixture and using a cookie shape, cut out a size suitable for your dog. Or you can drop by spoonfuls on a baking sheet. Warm oven to 350 degrees and bake. Check after 10 minutes. You may want a softer cookie or leave in another 5-10 minutes for a crispier cookie. Cool on a rack. Put cookies in a container and refrigerate some and freeze the rest. You can take them out of the freezer as needed. They are good for 2-3 weeks in the refrigerator (if your dog doesn't finish them before that).
If you have any dog biscuit recipes you would like to add, we welcome them.
Related articles: