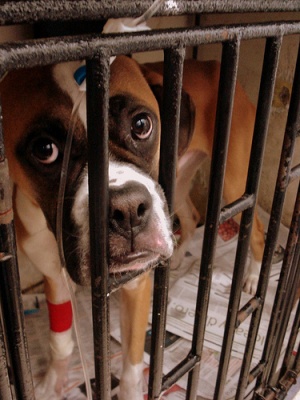 Cyberknife Radiosurgery uses a high-tech, image guided and computerized robotic system to deliver radiation with extreme accuracy. Each beam is relatively weak, but together they deliver high energy pinpointed radiation to the tumor with incredible power. The higher doses of radiation directly into the mass minimize damage to healthy tissue.
Radiation therapy is used to damage the DNA in tumor cells resulting in the death of the tumor cells. It is a pain-free, non-surgical option capable of targeting most areas of the body. Fewer treatments are necessary which means less stress for your pet. An added bonus is that your pet has to be anesthetized fewer times. Each treatment lasts between 30-90 minutes. Additional treatments (usually no more than 5) are administered over a period of several days. Side effects are minimal and usually disappear after 1-2 weeks.
Before undergoing cyberknife treatment, your pet will undergo a CT scan, MRI or PET scan to determine the size, shape and location of the tumor. Then a software technician, using this information, will create a treatment plan for the cyberknife. Your pet will be placed on a table, comfortably positioned. The computer controlled robot will slowly move around the patient where it will deliver radiation to the tumor location.
There are many facilities offering cyberknife treatment for humans, but at present, we are aware of only 3 facilities for pets. The Cyberknife Therapy – Animal Specialty Center in Yonkers, New York was the first to treat pets in the world. Cyberknife treatment is also available for pets at the Colorado State University Animal Cancer Center and through California Veterinary Specialists.
The only obvious drawback to this type of treatment is the cost – it runs into thousands of dollars. If you are interested in pursuing this for your pet, check with your insurance company to see if they cover cyberknife treatments.