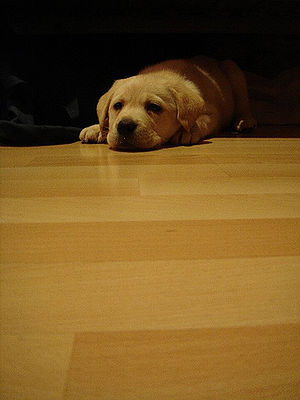 The chocolate we eat comes from the roasted seeds of the Cacao tree – Theobroma Cacao. The seeds contain theobromine and caffeine which belong to a group of drugs known as methylxanines.
Just as we humans do, dogs like sweets too. Although chocolate can be beneficial for us, it is toxic to dogs as well as cats and other animals. Cats however don't have the taste for sweets that dogs do.
Theobromine is the culprit in chocolate along with smaller amounts of caffeine. Theobromine is not toxic to humans as we are able to break it down and excrete more easily than dogs. Unsweetened Baker's chocolate is most toxic while white chocolate contains insignificant amounts of theobromine. But don't feed your dog white chocolate as sugar is bad for your dog as well.
The Merck Veterinary lists the following approximate amounts of theobromine in some chocolates:
Dry Cocoa Powder – 800 mg. per oz.
Unsweetened Baker's chocolate – 450 mg. per oz.
Cocoa Bean mulch – 255 mg. per oz.
Semisweet chocolate and sweet dark chocolate – 150-160 mg. per oz.
Milk chocolate – 44-64 mg. per oz.
And additionally, Semisweet chocolate chips – 30 chips-250 mg. and Instant cocoa powder – 150 mg. per oz.
According to Dr. Andrew Jones, online veterinarian, a fatal dose of chocolate for a 10 lb. dog is 300 mg. Consuming 100 mg. of chocolate can cause problems. Consuming 200 mg. and the symptoms are severe.
Symptoms of chocolate poisoning usually occurring 6-12 hours after ingestion can be restlessness, increased water consumption and urination, heart arrythmia (elevated heart rate), elevated blood pressure, seizures, muscle spasms, vomiting, diarrhea. It's a good idea to keep 3% hydrogen peroxide and charcoal capsules in your pet's first aid kit for these emergencies. Check with your vet for dosage. But it's best to get your dog to the vet or emergency services quickly.
Related Articles