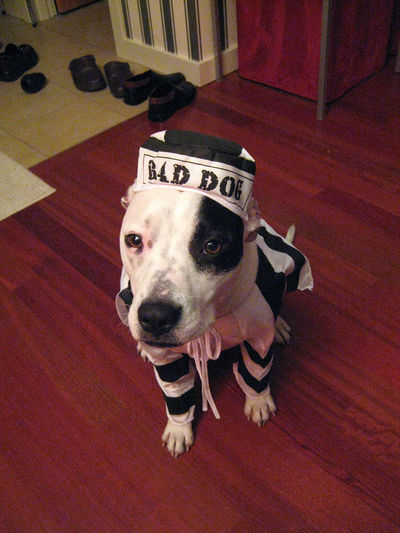 Care in choosing an animal behaviorist for your pet can make the difference in successful treatment. Before you entrust your pet to anyone else, look for a person who has a degree in behavioral science and who has hands-on experience with animals.
Sometimes, reading books or watching animal behavior programs on TV just don't work. Then it's time to seek professional help before the problem escalates.
Ask your veterinarian as many animal behaviorists only work through veterinary recommendations. When you have found someone, the next step would be to ask questions.
What degree in animal behavior does s/he have and where did s/he study?
Discuss your pet's problem. Does s/he have experience with this particular behavior?
What method is used to treat the behavior? Is it forceful or more positive? Does s/he use behavior modification that is not punishment based and will not frighten or hurt your pet?
What type of equipment is used? is physical force used? The answers will tell you the type of method employed.
Is s/he available for phone consults if a problem arises suddenly during treatment?
Does s/he have specific training with problems such as aggression, phobias, etc?
Do you feel comfortable with the person? It's important that you both are on the same wavelength. You'll be working together to help your pet and it's vital that you get along.
The ASPCA explains the different types of degrees and organizations to look for as follows:
Applied Behaviorist – MS, MA, PhD in Animal Behavior
Certified Applied Animal Behaviorist – Doctoral Degree
Associate Certified Applied Animal Behaviorist – Masters Degree.
CAAB and ACAAB have supervised graduate or post-graduate training in animal behavior, biology, zoology and learning theory at accredited universities. They recognize normal behavior and can teach and counsel people.
Members of the Animal Behavior Society are professionals and are certified on two levels – Associate Applied Animal Behaviorist and Certified Applied Animal Behaviorist with the latter having more exacting educational and experience requirements.
The American College of Veterinary Behaviorists are veterinarians certified in animal behavior who can prescribe medications. A Diplomat ACVB completes residency in behavior and passes a qualifying exam.
Another organization for international search is the Association of Companion Animal Behavior Counselors whose members are certified by their Board of Professional Certification.
Before proceeding with an animal behaviorist, your pet should have a complete physical examination to rule out illness as the cause of behavioral problems.