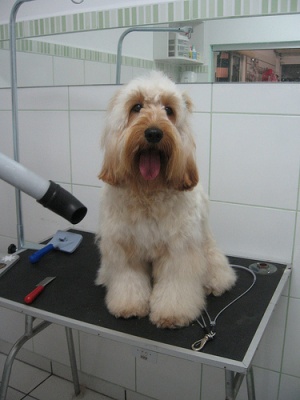 Grooming your pet plays an important role in keeping him/her healthy. With regular brushing we know the state of our pet's coat, nails, teeth and skin.
Choosing the right groomer requires some legwork. Ask for recommendations from your veterinarian, trainer, family, friends, rescue organizations, pet store, boarding kennel. Once you've made your choice, check with the Better Business Bureau to make sure no complaints have been lodged against the groomer.
Some states require groomers to be licensed. Ask to see the license if it is not displayed. Ask the groomer if s/he is a member of the National Pet Groomers Association of America or other groomers organization.
Check the facilities, whether a shop or a mobile unit, for cleanliness, organization and proper equipment.
Here are some more questions for the groomer:
How long has s/he been grooming dogs and/or cats?
What experience does s/he have with your particular breed of cat or dog?
What services are available?
Does the groomer require proof of vaccinations?
Are dogs and cats kept separately to alleviate stress?
How are special need dogs treated – elderly, short-nosed, tripawds?
How are nervous, stresse3d pets handled?
Where are pets placed when drying or waiting for owners?
Does the groomer accept walk-ins or by appointment only?
What are the fees for grooming?
Are other services included or are there additional fees and what are they?
Discuss any special treatments such a specific type of haircut, shampoo, etc.
Inform the groomer of any medical condition or special needs your pet has.
Leave a telephone number where you can be reached and an emergency number in case you are unavailable. Leave your vet's telephone number with the groomer as well.
When grooming is completed, you should be greeted by a pet who has a clean, shining coat and a happy expression.
Related Articles