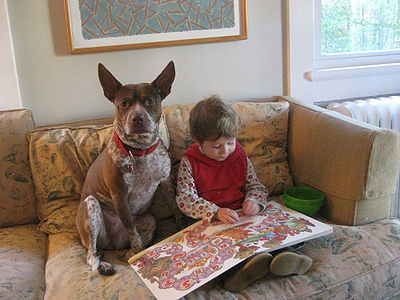 According to the National Assessment of Education Progress scores, in 2004, 40% of 4th graders are below their grade level in reading. And that's only one survey.
What is more natural than seeing children and dogs together. Often children can relate better to their furry pals who are non-judgmental and offer comfort.
Both children and dogs benefit from this new and innovative reading program.
Children who are self-conscious about their poor reading skills gain confidence reading to a dog who doesn't judge them and listens happily and contentedly. This helps children overcome their shyness and builds self-esteem. Children become more relaxed and show less signs of stress. In the process, children also learn practical dog care and how to show kindness to animals.
The dogs are therapy dogs trained to assist. Often animal shelters will train their dogs for the reading programs, giving a new lease on life to the dogs. The dogs, having learned to interact well with children become more adoptable.
Thanks to the Reading to Dogs programs, children are able to improve their reading skills, gain confidence and improve social skills. And children learn the joy reading brings along with the unconditional love of a dog.