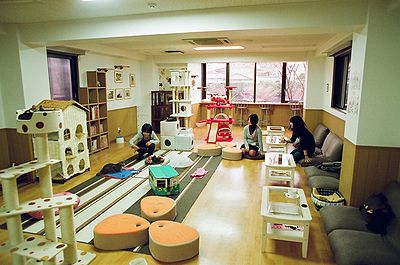 The Keurig Neko Cafe is one of many cat cafes throughout Japan. Neko is the Japanese word for cat.
Owner Kayuno Nomura has always had a special place in her heart for cats and has fed many strays near her home. Of the cats she fed, 5 regulars disappeared. They never returned and Kayuno's concern for them inspired her to protect strays and seek homes for them.
A visit to a neko cafe in Tokyo gave rise to the idea of opening the Keurig in a trendy district in Fukuoka in 2008. Its popularity encouraged Kayuno to open a second cafe in 2009 in Tenjin.
The cafe is constructed with a double set of doors at the entrance to prevent cats from escaping. The decor includes comfortable seats and lots of toys for both cats and humans to enjoy. The cats have many poles, steps, scratch pads, etc. and are free to enjoy the comforts designed for them. The cafe cats have had complete medical checkups and necessary vaccinations. The cats may be adopted by customers who are screened beforehand to make sure the cats are going to the right homes.
Upon entering the cafe, each person's hands are sprayed with a disinfectant to avoid bringing germs and diseases to the cats, Then patrons are free to play with the cats as long as they follow the rules – no photographs and no forcing cats to play.
Of course food service is equally important and Kayuno serves a wide variety of delicious dishes, desserts and beverages. And for a small price, you can feed your favorite cat a bowl of boiled chicken strips.