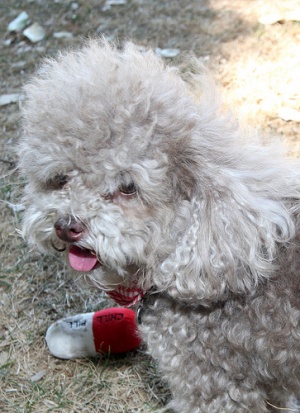 These days we all realize the importance of vitamins and supplements in our diets. Most of us are too busy and often we don't eat properly. In order to meet the requirements for proper nutrition, we include vitamins and supplements in ours and our pet's daily meals.
But before we make any additions to our dogs' diets, we should be aware of the proper way to go about it.
First, your dog should have a complete physical examination at the veterinarian's office including whatever tests are necessary. I would suggest consulting with an integrative vet who is knowledgeable about traditional therapies as well as non-traditional remedies. Discuss with the vet any medical conditions your dog may have, what medications are prescribed if any, and the type of diet your dog eats – raw, homecooked and/or commercial.
Pet food manufacturers are now adding supplements to their foods. However dry kibble is processed using high heat which causes supplements and vitamins to lose their effectiveness. Your vet can tailor a list of vitamins and supplements for your dog's particular needs.
Certain vitamin excesses can cause problems you should be aware of.
Excess calcium can cause skeletal (bone) problems especially in large breeds.
Excess Vitamin A can affect blood vessels, cause dehydration, joint pain.
Excess Vitamin D can harm bones, cause muscle atrophy, loss of appetite.
Others can be very beneficial.
Vitamins C and E and fish oils help with inflammation, signs of aging.
Glucosamine/Chondroiton can improve joint related conditions.
Probiotics can help improve digestive health.
Coenzyme Q10 provides cardiovascular support especially in older dogs and those involved in sports and competition.
It's important too, to inform your vet whether you are using vitamins and supplements made specifically for dogs or human equivalents.